Go On A Merdeka Tour At Pavilion Bukit Jalil
Every year, on September 16, a public holiday is observed to honour the day the Malaysian federation was founded in 1963, celebrating 59 years of immergence between east and west. As you sing along to all of your favourite patriotic songs, we have put together a list of ways that you can memorialize this great day at Pavilion Bukit Jalil.
Raikan Kebanggaan Buatan Malaysia
Start your holiday off right with duluKINI in the pink zone (level 2) of Pavillion Bukit Jalil, and be treated to traditional craftsmanship that will undoubtedly evoke fond memories. DuluKINI draws from both traditional (dulu) and modern (KINI) Malaysian culture to design and produce its own line of products (KINI). Walking into the store, you'll be met by a wide selection of genuine Malaysian products that are likely to bring back fond memories. At duluKINI, you can acquire traditional games like gasing and sepak takraw, as well as fine tiffins and dishes for gift sets, handmade batik bags for a glamorous night out, and rattan furniture to spruce up your home.
dUCk is the place to be if you're looking for classic clothes that are making a comeback. You'll have no trouble finding something that complements your sense of style, whether it be classic, fun, or a combination of the two. The modest fashion accessory label has all the essentials, like scarves, cosmetics bags, and more, in enticing graphic motifs and vibrant colours.

Location:
dUCK Level 2, Pink Zone, Zone Pavilion Bukit Jalil
duluKINI: Level 2, Pink Zone, Pavilion Bukit Jalil

Raikan Kebanggaan Negara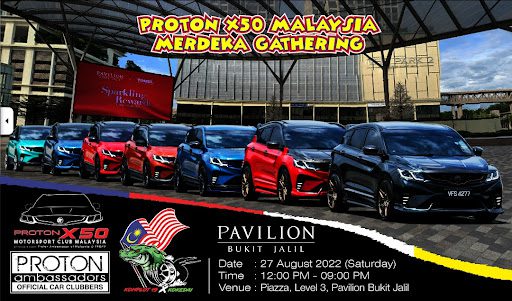 It wasn't that long ago when the Proton Saga was a household name on the highways of Malaysia. Proton was the first national automobile brand in Malaysia and was a pioneer in the production of affordable indigenous cars for Malaysians. Although we are all aware of the legendary Proton Saga, the Proton X50 has quickly become a favourite of the public in recent years.
Pavilion Bukit Jalil will be hosting a gathering of the Merdeka Proton Cars Club on the 27th of August. At this event, 140 members of the club will display 72 Proton X50 automobiles that have been decorated in a Merdeka-themed manner. If you are interested in participating in a display of Malaysian pride, you should attend this event. Bring your Jalur Gemilang with you and do your best to demonstrate some spirit for Malaysia, all right?
Location: PIAZZA, Level 3, Pavilion Bukit Jalil


Raikan Kebanggaan Rasa Malaysia
Even though we Malaysians come from a variety of backgrounds, our shared love of good food brings us closer together. There is no way to make a list of suggestions for Merdeka without including food. Here are some very sedap Malaysian dishes that you can try while you are out celebrating the national holiday.
Visit Sedap by Grandmama's or Madam Kwan's for some great local favourites, and wash it all down with something sweet like the Cendol Blast Ice Cream Milkshake from Baskin Robbins or the famous Kwong Wah Ais Kacang from Kwong Wah Ais Kacang.
Don't miss this chance to savour more of Malaysia's best snacks with Teh Tarik Place 'Malaysiaku Specials' from 29 August – 18 September 2022 – highlighting limited-edition Otak-Otak Ikan, Satay, Pandan Seafood, Pandan Chicken, Pepes Ikan & more. Bring your loved ones over and celebrate the many delectable tastes of Malaysia today!
Location: Pavilion Bukit Jalil
Raikan Kebanggaan Seni & Budaya
Malaysia's many different cultures and arts are a blessing. Seeing as our rich cultural history is one of the best things about our country, Hari Malaysia seems like the best time to do it. Visit the Portrait of Heroes Art Showcase (12 August–18 September) to see paintings by students from Inti University & Colleges that try to bring to life some of our real-life Malaysian heroes in memorable situations from our Sejarah textbooks.
Location: Level 2, Pink Zone,Pavilion Bukit Jalil
Raikan Kebanggaan Dengan Kemenangan
There's nothing more that we Malaysians love than food, and that's free gifts. So while you're out shopping and having fun this Merdeka, don't forget to claim your rewards. Tourism Malaysia (MOTAC) & Shopping Secretariat Malaysia (PPKM) is organizing a nationwide e-Voucher program. Shoppers just need to spend a minimum of RM100 at participating stores, Pavilion Bukit Jalil to redeem an RM30 e-cash voucher.
You can enter the 'Belanja & Menang' fortunate draw to win vouchers and other great prizes (including a Proton X50) in Malaysia. To enter, simply spend a minimum of RM100 at any combination of participating retailers, take a photo of your receipt, and upload it to the MySales Tracker app.
For more information on participating stores visit www.pavilion-bukitjalil.com, check for real-time updates via Facebook, Instagram, or contact Customer Service at 03 8092 8833.
READ: Anantaru Desaru Coast Resort & Villas